Easy Allies (EZA) is an independent Patron-supported group of experienced journalists, writers and web content producers. They primarily focus on video game related content, such as reviews and news coverage, although they regularly feature various other forms of entertainment media as well.
After years of creating entertainment together as GameTrailers, they were reborn in 2016 as Easy Allies. They love playing video games, analyzing the games industry, and interacting with the community.
History
Origins (2016)
After GameTrailers was shut down by owner Defy Media on February 8, 2016, most of the remaining staff including GameTrailers co-founder Brandon Jones announced the creation of Easy Allies on March 20 of the same year. They officially launched the following day with a 12-hour livestream marathon[1] on their Twitch page. The company is primarily funded via Patreon, with support from backers reaching $40,000 per month within three months of launch.[2]
Because all trademarks and copyrights relevant to GameTrailers remained property of Defy Media following its closure, Easy Allies was unable to re-use the names of shows established under the GameTrailers banner. Brandon Jones acknowledged this issue by pitching to Patrons "you know the show, we're just going to change the title".[3] The GameTrailers brand and associated assets were purchased by IGN in May 2016.[4]
The Garage (2016-2018)
2016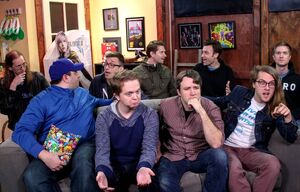 The Easy Allies Podcast premiered on March 23, 2016, which breaks down the biggest headlines in video games each week. The podcast was moderated by Kyle Bosman and Brandon Jones alongside a rotating panel and later with Ian Hinck on the switcher in the Control Room. It was the successor to GameTrailers' podcast GT Time[5], from which it also borrowed its general vibe along with many of its segments.
On April 11, 2016, Easy Allies debuted its secondary podcast, Frame Trap hosted by Ben Moore. The panel talks more in depth about what they've been playing and spending their time with. They also tackle a variety of topics related to video games and other media such as music and TV shows.
The first-ever Easy Allies Awards was held on December 14, 2016 to celebrate the best games of the year. Awards are given out in a variety of fun and serious categories culminating in the Game of the Year award. After deliberating upon winners as an editorial team, each Ally also provides their own personal picks.
2017
On February 21, 2017, Easy Allies established The Hall of Greats, a quarterly Group Stream Night event in which the Allies vote for the games they deem worthy of being called One of the Greats. Each Ally brings forth a game they believe is worthy and are provided five minutes to present their case and five minutes to answer questions in a cross-examination. At the end of the event, each Ally votes and two games make it into the Hall of Greats.
Easy Allies celebrated their first anniversary on March 21, 2017 with the first Easy Allies in Concert live show. They held the event at Prospect Theatre in Los Angeles, California and invited members of the community to attend. The show included live music performances, premieres, and a look back at the first year of Easy Allies. Their first anniversary was also celebrated by the One Year Strong Mega Stream, a 12-hour live stream that featured a variety of games, video premieres, and announcements.
Their Nintendo-themed podcast Friend Code premiered on April 11, 2017 hosted by passionate and critical Nintendo fan Michael Damiani. The show focuses on the latest in Nintendo news, takes Patron questions, and sometimes features special guests to talk about a variety of Nintendo-related topics.
A new monthly movie podcast titled Reaction Shots debuted on April 14, 2017. Hosted by film buffs Ian Hinck and Michael Huber, they study various film trends and genres. The podcast also features its own $7 and up Patreon tier titled The Easy Allies Film Club where you get early access to the podcast, access to Ian and Huber's ever-growing favorite movies list, and eligibility to submit comments, questions, and discussion topics for inclusion in each episode.
A new Patreon goal for a web series called Box Peek by Kyle Bosman was announced on May 19, 2017 and was quickly met by the end of the month. The show is about a fictional sport in which competitors climb into boxes and try to peek at each other. It features paper puppets made and directed by Kyle himself along with voiceover work by the Allies and friends.
They held their first annual Easy Livin' 50-hour beach house event from August 4-6, 2017. All nine Allies spent a weekend together streaming a multitude of games consecutively without ever intentionally ending the stream. A broadcast schedule was created to rotate who was playing and ensure at least one person was always streaming.
2018
After more than 100 reviews as Easy Allies, they decided to update their review score system on February 16, 2018.[6] They switched from a 5-star system to a numerical 10-point scale with 0.5 intervals, similar to most other review editors. This shift was made in order to accommodate better with review aggregator sites and provide more flexibility to match the score with the review.
Easy Allies celebrated their second anniversary with Easy Allies in Concert: Revengeance on March 18, 2018. Held at Tommy's Place on the USC Campus in Los Angeles, California, the live show featured video premieres, live performances, and a celebration of Year 2 of Easy Allies.
On April 19, 2018, they held a Better Stuff Before E3 9-hour marathon fundraiser event to help them get better equipment for their E3 2018 coverage. They initially set a modest $10,631 goal, but it was quickly shattered early on in the fundraiser. They surpassed their final goal of $30,426.80 in the final hour of the stream.
The series premiere of the highly-anticipated Box Peek first aired on October 26, 2018. The first five episodes were released weekly along with accompanying Q&A livestreams with creator Kyle Bosman and a special season finale livestream with voice actor Amanda Troop.
The Studio (2019-present)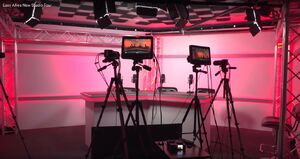 2019
On June 21, 2018, Easy Allies reached a set Patreon goal of $50,000 per month to acquire a studio. They announced they were moving into a studio on December 4, 2018 and officially moved production on January 29, 2019. They christened the studio with a video tour and launch party that included a playthrough of Monopoly Plus for PlayStation 4.[7]
Ahead of their third anniversary, Easy Allies premiered their original trivia game show Mysterious Monsters on March 19, 2019. Players have to fight monsters in an RPG-like battle screen, answer trivia questions in a variety of topics, and compete against each other to win the most gold by the end of the final round. The game show is hosted by Michael Huber, designed by Ian Hinck, and programmed by developer Jason Wishnov from Iridium Studios.
For the third anniversary live celebration, they decided to forego doing another concert in favor of the Mysterious Monster Mash, a live version of the trivia game show. The show took place on March 23, 2019 at Tommy's Place on the USC Campus once again. They invited members of the community in the live audience to compete as contestants and wrapped up the show with a video game karaoke medley performed by Ian Hinck.
Easy Allies made their Phase 4 Announcements[8] on August 13, 2019. While they dealt with the professional transition of moving into the studio and personal events affecting some of the Allies, they decided to take a step back and survey the community to get feedback on the future of Easy Allies. Among the announced changes were the removal of Patreon goals, streaming together in the studio more often, the addition of the $15 Stream Team Patreon tier, updates to existing shows, and the introduction of new/returning shows.
The final five episodes of Box Peek first premiered on November 8, 2019. Similar to the first five episodes, each episode debuted weekly along with an accompanying Q&A livestream with creator Kyle Bosman. The final live Q&A was once again accompanied by voice actor Amanda Troop and featured a retrospective on the series as a whole and the journey to create all ten episodes.
2020
On March 13, 2020, Kyle Bosman announced via Patreon post[9] that he would be departing from Easy Allies the following month, citing that he needed to find his life's "main thing." In the same post, he mentioned that the Easy Allies Podcast would be hosted by Jones and that Damiani would take over as producer for Achieve it Yourself.
Later that same month, the global COVID-19 pandemic forced Easy Allies to halt production at the studio and work from home. This put shows such as the trivia game show Mysterious Monsters on hold while other podcasts, shows, and streams had to be updated to accommodate working from home. This included utilizing Zoom for video conferencing along with other sharing and watch-along software.
The global pandemic also changed their plans for their annual Easy Allies anniversary celebration. While they previously held the Easy Allies in Concert live shows and Mysterious Monster Mash in prior celebrations, March 22, 2020 was the original date for EZX, a four-hour live community group stream to play game togethers with members of the community. The event transformed into EZX Digital, a 6-day online event with 8+ hour streams from March 22-27, 2020. Due to the stay-at-home order, the schedule shifted from a studio-focused event to playing individually at home.
Current Operations
Easy Allies operates out of Los Angeles, California. In addition to publishing video game reviews, they also produce a multitude of podcasts and shows primarily focused on video games such as the Easy Allies Podcast. At times, they also cover other passions like movies, anime, and TV shows.
They stream regularly on Twitch which includes their weekly Group Stream Night that gathers most of the Allies to play a game together. In addition to playing games, they also stream and release their live reactions to video game reveals and events such as E3. Live streams have also been utilized to solicit donations for charity from their fans for a variety of good causes.
Easy Allies has served as a voting jury member for The Game Awards since 2017, and participated as a judge for the 2018 and 2019 Game Critic Awards.
About Easy Allies Editorial Content
Easy Allies is an independent media outlet including critics who have been writing about games for decades. In order to facilitate coverage, they maintain contacts throughout the video game industry, including major publishers, public relations agencies, and independent developers. These relationships allow them access to advance copies of games for the sake of review or preview, and in some cases include travel accommodations to see games that are still in development.
Coverage of any game remains their sole discretion regardless of access provided by a publisher, including negative coverage or the potential for no coverage whatsoever if they determine something else to be of higher priority.
They do not accept payment or gifts in exchange for editorial coverage, especially reviews.
In the case that a video game publisher desires to sponsor their podcasts, that sponsorship will be limited and clear. Any game included in such sponsorship will be excluded from consideration for reviews and awards. However, they may still discuss it in less definitive forms of non-sponsored content.
The trust of their audience is of utmost importance to Easy Allies, and they strive to maintain honesty and integrity in all their editorial coverage.
Community content is available under
CC-BY-SA
unless otherwise noted.