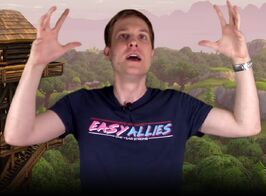 Huberisms are short expressions or simply recurrent words used by Michael Huber, that often, through their constant reuse, acquire additional meaning or serve as an exaggeration on the original meaning. They are characterized by his vocal delivery, which is usually accompanied by an emphasis on each word or syllable.
In many instances, it becomes common vocabulary among the other Allies and the community.
Examples
Buckle Up, Settle Down
Culmination
Defection
Disrespect
Economy
It's been a while
Let it cook
Live to play, play to live
No quarrel
Out of control!
Play how you wanna play
Respect the legacy
Sending a message
Setting the tone
Verticality
Will [blank] reveal itself/themselves?
Community content is available under
CC-BY-SA
unless otherwise noted.