Kyle Makes a Game Boy Game was Kyle's Friday night journey into game development and creating his first Game Boy game, Don't Call Me Mama But Yes I Am Your Mama. 
This stream took the place of his normal Friday Night streams and spawned the creation of his infamous Epidemic Sound playlist of the same name which he would play while developing his game. The playlist featured royalty-free music from Epidemic Sound, including the fan-favorite song 3D Print by Tape Machines.
Plot
Don't Call Me Mama But Yes I Am Your Mama is the ugly adventure of a Genomster engineer doing her best to create a strong creature for cool battles before her power gets shut off in five days.
Development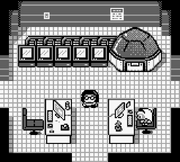 Kyle used a variety of free and paid software to develop the game and art for his game. The primary software used was GB Studio , a free visual game builder created by Chris Maltby that notably didn't require programming knowledge to develop for. Due to the limitations of GB Studio, games were limited to 2D JRPG style adventure games. The software allowed for the ability to build real GB ROM files and play in an emulator or load onto Flash Carts to play on physical Game Boy hardware.
Kyle used Aesprite,  an animated sprite editor and pixel art tool, to create the sprites and graphics for Don't Call Me Mama But Yes I Am Your Mama. However, GB Studio is compatible with any editor that can output PNG files such as Photoshop. A free map editor called Tiled was also used to build some of the levels and environments.
Release
Kyle released Don't Call Me Mama But Yes I Am Your Mama for free on itch.io . You could play it in your browser or download the .gb file to play in any Game Boy emulator or load onto a Game Boy cart to play on actual hardware. 
A community member named Tobi aka EarthPainting also developed his own Game Boy game named Danielle Gaiden  that also takes place in the world of Genomsters in a strictly non-canonical expanded universe. The game was released on itch.io alongside Don't Call Me Mama But Yes I Am Your Mama.
Community content is available under
CC-BY-SA
unless otherwise noted.