The Easy Allies Magic the Gathering Fundraiser Tournament was their first ever MTG draft and tournament benefitting disaster relief in Australia.
They set a $10,000 goal for their GlobalGiving campaign supporting the Australia Relief Project and raised a total of $7,225.
Australian actor Luke Arnold stopped by The Studio to provide guest commentary with Brandon Jones and Bradley Ellis and show support for the cause. Michael Damiani was the techncial director managing the switcher for the tournament.
The Bracket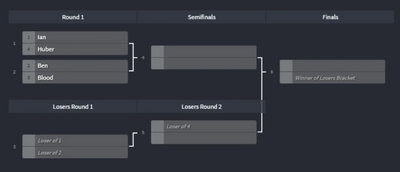 Ian Hinck, Michael Huber, Ben Moore, and Daniel Bloodworth were the competitors in the single-game double-elimination tournament.
The losers of round 1 would move down into the losers round with the winner of the losers bracket needing to win a best-of-three finals twice in order to be declared tournament champion.
The Draft
For the draft, they utilized the MTG Core Set 2020 in a sealed deck format. Each player starts with three sealed packs, opens up the first pack, and picks a card from the pack to draft for their deck. The remaining cards in the pack gets passed to the next player and the process repeated until all cards in the pack are exhausted. This continues until all cards in all packs have been drafted.
In the next phase, they fleshed out their deck with land and worked on overall deck construction for their chosen mana composition. Due to confusion on the draft rules for setting aside land, Bloodworth accidentally set aside the special land during his drafting phase instead of leaving them in the pool. To rectify this, they held a separate draft with the remaining special land.
The Tournament
Round 1
The first round matchups were set with underdogs entering both games.
Ian Hinck vs. Michael Huber
Ian drafted a blue and white deck that went up against Huber's green deck. While both players have experience playing Magic The Gathering, Ian entered the matchup as the favorite with the higher experience.
Ben Moore vs. Daniel Bloodworth
Ben drafted a green and black deck that went up against Bloodworth's blue and white deck. Ben was the more experienced MTG player entering round 1 while Bloodworth notably learned how to play just days before the tournament began via Magic The Gathering Arena.
Losers Round 1
Semifinals
Losers Round 2
Finals
Community content is available under
CC-BY-SA
unless otherwise noted.