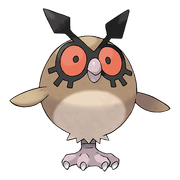 Tootsie Time is a phrase used when another Ally is on a Research Break and is a nod to the Hoothoot caught in Pokémon Silver during Brandon and Kyle's Silver Squad stream. Tootsie would become a fan-favorite during the streams and would be a major part of the fanart and evolving storyline of the game and the stream itself. Tootsie would become canonically shown as cross-eyed with depictions of a huge and muscular "Buff Tootsie" considered an act of glorifying Tootsie and the resulting art disqualified from the art show that week.
Origin
The phrase is a reference to Kyle's dislike of Hoothoot, which Brandon caught and named Tootsie after Mr. Owl from the Tootsie Pop commercials. Kyle would not allow Tootsie to be used in battle or leveled despite becoming an integral party member via the various HMs learned. When Kyle would go on research break, Brandon would discreetly use Tootsie in battle to gain experience and pretend like nothing happened.
Community content is available under
CC-BY-SA
unless otherwise noted.